NSW SYD Best of Sydney 4gg h/d city tour & Blue Mountains con commento in italiano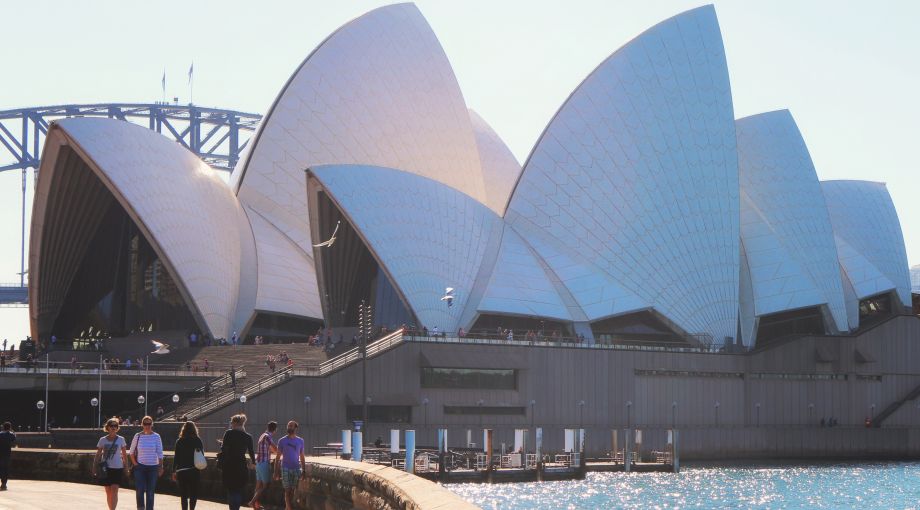 Durata 4 giorni, 3 notti
QUOTE A PARTIRE DA:
383
€
---
Descrizione del tour
Surfisti, oceano, sole e un easy going che ti fa venire voglia di trasferirti appena metti piedi in città. Sydney è il paradiso di chi ha voglia di fare un viaggio in solitaria oppure di scappare in fuga con gli amici per un'esperienza divertente, o con la propria dolce metà, in tutti i casi si hanno la città offre mille stimoli.
Luoghi visitati
Darling Harbour, Blue Mountains National Park
Paesi visitati
---
---
Itinerario Giornaliero
1
SYDNEY
Dall'aeroporto di Sydney trasferimento privato con autista di lingua inglese per l'hotel prescelto e sistemazione in camera. Rilassatevi e concedetevi un cocktail magari nel rooftop dove si trovano gran parte dei lounge bar. Se è una bella giornata, regalativi un tramonto dall'alto dei vostro hotel, mentre la baia si colora di rosso e la luce del sole lascia spazio alle mille luci dello skyline della città.
MAPPA PUNTI DI INTERESSE
Il Sydney Harbour Bridge è sicuramente una dei monumenti più simbolici e fotografati di Sydney, dopo l'Opera House, naturalmente. Conosciuto dagli abitanti come "l'appendiabiti" questo ponte ad arco in acciaio è il sesto al mondo per lunghezza e collega la sponda settentrionale di Sydney con il centro della città. I lavori di costruzione iniziarono nel 1924 e terminarono nel 1931. Il ponte fu ufficialmente inaugurato nel 1932. Si può attraversare a piedi o in bicicletta, in auto oppure in treno. Non c'è bisogno di dire che offre una delle viste più spettacolari di Sydney e della sua baia.
---
2
SYDNEY: alla scoperta di Sydney con audio commento registrato in italiano
Questa mattina visiterete la zona storica Rocks (centro storico di Sydney) e sentirete la storia dei primi detenuti. Vi godrete le magnifiche vedute dell'Opera House, dell'Harbour Bridge di Sydney, il cuore commerciale della città che comprende il Queen Victoria Building e la Centrepoint Tower. Visiterete anche il nuovo quartiere alla moda di Sydney, Oxford Street e l'elegante Paddington con le sue case a schiera. Arriverete alle famose spiagge, vedrete Tamarama, Bronte e vi fermerete sul lungomare di Bondi per passeggiare. Vedrete surfisti, famosi bagnini australiani e i punti panoramici più spettacolari di Sydney. Ritornerete a Sydney passando per il Sydney Heads lookout, Watsons Bay, Kings Cross & Mrs Macquaries Point per le vedute dell'Harbour Bridge e dell'Opera House. Resto della giornata a disposizione per completare la vista della città. Lo shopping a Sydney è superlativo e il panorama culturale altrettanto. Avrete l'imbarazzo della scelta tra spettacoli teatrali (quelli dell'Opera House sono dei veri must) e musicali, concerti, mercatini, gallerie d'arte e musei, molti dei quali gratuiti. Migliaia, poi, i ristoranti che propongono le cucine di tutto il mondo e se si vuole tirar tardi non c'è che l'imbarazzo della scelta tra locali alla moda e club.
MAPPA PUNTI DI INTERESSE
La Art Gallery of NSW è uno dei principali musei d'arte in Australia. Più di un milione di visitatori all'anno ammirano la collezione della Galleria di arte australiana, aborigena, europea, asiatica e contemporanea. Situata all'interno di un bellissimo parco che si affaccia direttamente sul porto di Sydney e a soli 15 minuti a piedi dal centro della città, la Art Gallery ospita anche personali e mostre temporanee di arte contemporanea. L'ingresso alla Galleria è gratuito, così come le mostre permanenti e la maggior parte degli eventi e delle esibizioni temporanee.
---
3
SYDNEY: f/d escursione alle Blue Moutains con commento in italiano pranzo incluso
Le Blue Mountains sono una reale viaggio nel cuore della regione patrimonio mondiale dell'Unesco. La prima tappa della giornata è il Featherdale Wildlife Park, qui è possibile stare a stretto contatto con gli animali del posto come wallabies, koala, emu e canguri. Partendo dal Featherdale, si inizierà il viaggio verso le Blue Mountains, la prima tappa è un Lookout con viste mozzafiato sulla Jamison Valley. Si continuerà verso Eaglehawk Lookout per vedere le famose Tre sorelle e per conoscere le leggende nascoste su questa famosa formazione rocciosa. Pranzo all' Hydro Majestic Hotel (bevande possono essere acquistate a proprie spese). Il pomeriggio è dedicato alla visita di scenari mozzafiato. La vista da Govett's Leap è una dei più famosi punti d'osservazione d'Australia. Qui le magnifiche cascate cadono da 180 metri alla base della scogliera. L'ultima tappa è il Mt Tomah Botanic Gardens dove ci si fermerà per godere di altri panorami e si sorseggerà un bicchiere di vino o un succo di frutta prima di tornare al vostro hotel.
MAPPA PUNTI DI INTERESSE
Patrimonio Umanità UNESCO, le Blue Mountains sono un insieme di colline e montagne situate nel Nuovo Galles del Sud, nel sud-est australiano. Seguono il profilo della costa per circa 2000 chilometri offrendo una ampia variazione di clima e di altitudine, superando i mille metri di altezza. La foschia dal colore azzurrino che da loro il nome avvolge gli altissimi eucalipti dalla folta chioma attraverso un paesaggio di profonde e spesso inaccessibili vallate, cascate e rocce di pietra arenaria cesellata dal vento. Il Blue Mountain National Park è ideale per chi ama camminare. L'attrazione principale delle Blue Mountains sono le Tre Sorelle, una formazione rocciosa nei pressi della città principale di Katoomba, sovrastanti la Valle Jamison: singolarmente si chiamano Meehni (922 metri) Wimlah (918 metri) e Gunnedoo (906 metri).
---
4
SYDNEY
Check-out della camera entro le ore 11.00. In coincidenza con i volo per la destinazione successiva, trasferimento privato con autista di lingua inglese per all'aeroporto.
MAPPA PUNTI DI INTERESSE
Sydney è una città molto multiculturale, con oltre 250 lingue parlate e oltre un terzo dei suoi residenti nati all'estero. È anche molto varia in termini di paesaggio, con montagne, colline, spiagge, parchi nazionali, foreste, laghi, fiumi e naturalmente, il centro urbano e la periferia. Ma soprattutto è una città dove a ogni angolo si possono trovare ristoranti, bar e locali, è piena di gallerie, musei teatri e altre aree storiche da visitare e festival a cui partecipare da quello famoso in tutto il mondo Gay and Lesbian Mardi Gras alla fine dell'estate all'invernale Sydney Writers' Festival. E non mancano i mercati di strade, anche stile vintage come quello di Paddington Markets.
E chi cerca le vie dello shopping troverà in Pitt Street e George St. con il Queen Victoria Bulding il suo paradiso. Per lo shopping alternativo ideale Surry Hills lungo Crown St.
---
Aggiungi un po' di relax con un soggiorno mare