Niagara & Outlet by bus - 2gg/1nt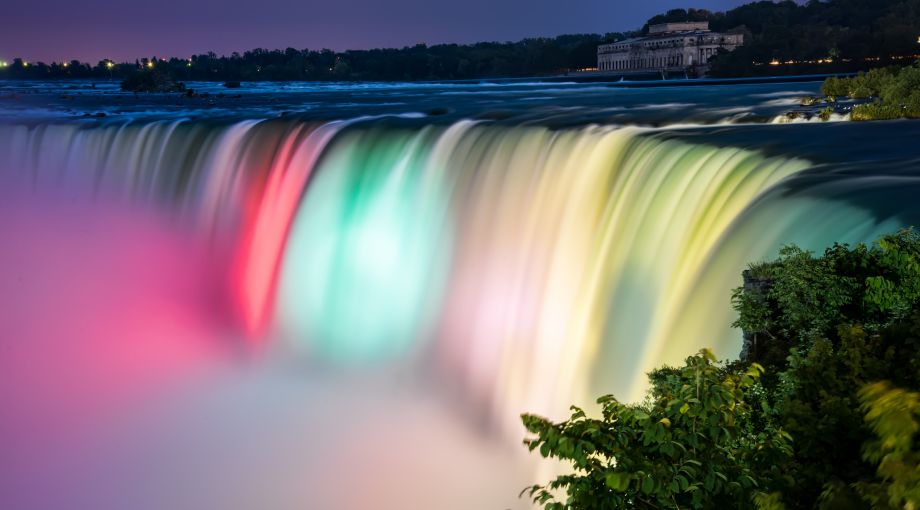 Durata 2 giorni, 1 notti
QUOTE A PARTIRE DA:
385
€
---
Descrizione del tour
"Maid of the Mist", il battello che vi porterà fin sotto quelle che vengono universalmente riconosciute come uno dei più clamorosi spettacoli della natura...le Cascate del Niagara, il "confine" tra Usa e Canada...un fronte d'acqua lungo ben 950 metri e alto 55.
Luoghi visitati
New York, Niagara Falls
Paesi visitati
---
---
Itinerario Giornaliero
1
New York / Finger Lakes / Cascate del Niagara (632 km)
| | | |
| --- | --- | --- |
| Categoria | Sistemazione | Trattamento |
| Standard | Us Comfort Inn The Pointe o similare | Pernottamento e prima colazione |
Il tour parte dalla Grande Mela in direzione nord dove si attraversa il Delaware Water Gap verso il Watkins Glen State Park, nel cuore della regione Fingers Lakes. Arrivati, si attraversa a piedi il Watkins Glen Canyon per visitarne le belle cascate e poi si continua il viaggio verso Niagara, dove si arriva nel tardo pomeriggio, passando per il Lago di Seneca (nei mesi invernali invece si visitano le cascate Montour quando il parco Watkins Glenn non e'accessibile). Il tour prosegue dal lato americano delle cascate, dove si visitano le Goat Island e Luna Island (accesso limitato in inverno). In serata si possono ammirare i meravigliosi giochi di luci e colori delle cascate.
MAPPA PUNTI DI INTERESSE
New York City è una città di 8.175.133 abitanti ed è la città più popolosa degli Stati Uniti, nonché uno dei centri economici e culturali più influenti del continente americano e del mondo intero.
Un viaggio a New York City è l'esperienza di una vita. Con attrazioni famose come Times Square, Central Park, l'Empire State Building e lo Yankee Stadium - solo per citarne alcuni - New York offre più cose da vedere e da fare in un'area compatta che in qualsiasi altro posto al mondo.
Ognuno dei cinque distretti della città contiene un proprio elenco di destinazioni imperdibili, ottimi ristoranti, punti di interesse culturale e attività indimenticabili
Dai Musei alle gallerie d'arte, dai parchi agli edifici che fanno parte della storia moderna, dallo shopping agli spettacoli di Broadway e dalla vita notturna alla scelta gastronomica, è chiaro che a New York non ci si può annoiare.
---
2
Cascate del Niagara / New York (680 km)
Lasciando l'albergo si visitano ancora le Cascate da vicino, sentendone il frastuono a bordo del battello Maid of the Mist (da Maggio a Ottobre). In inverno fino ad Aprile quando il Maid of the Mist non e' disponibile si ammirano le Cascate dal retro attraverso lo Scenic Tunnel. In tarda mattinata si parte verso lo Stato di New York. Dopo pranzo lungo il tragitto, a poche ore da New York, visita ad un Outlet dove si possono acquistare prodotti di marche famose a prezzi competitivi. Arrivo in serata a New York. Termine dei servizi.
MAPPA PUNTI DI INTERESSE
Ci sono 2 cascate, le American Falls e le Horseshoe Falls, separate da Goat Island.
Le Cascate Americane sono le più piccole delle due cascate, ma comunque imponenti con 300 metri di larghezza e 50 metri di altezza.
Le Horseshoe Falls, sulle quali scorre il 90 percento dell'acqua, sono quasi 800 metri di larghezza e misurano quasi lo stesso in altezza. Le cascate possono essere viste da vari punti: dal livello del fiume, da sotto le cascate, da sopra le cascate e perfino da dietro le cascate.
Il Parco Statale del Niagara, offre tour di ogni genere e anche la possibilità di scaricare una app per tour a piedi e che aiuta a scoprire la storia e le attrazioni in modo autonomo.
---
Aggiungi un po' di relax con un soggiorno mare